In 1883, a man called Thomas Huxley addressed his audience at the International Fisheries Exhibit in London. He reassured them with words that have since become infamous among those who look critically at the state of our fisheries. He told them that overfishing was impossible, that the supply of fish was inexhaustible and that we would never run out.
Today, 77% of fisheries monitored by the Food and Agriculture Organisation (FAO) are either fully exploited, overexploited or depleted. The planet's fisheries are operating at maximum capacity.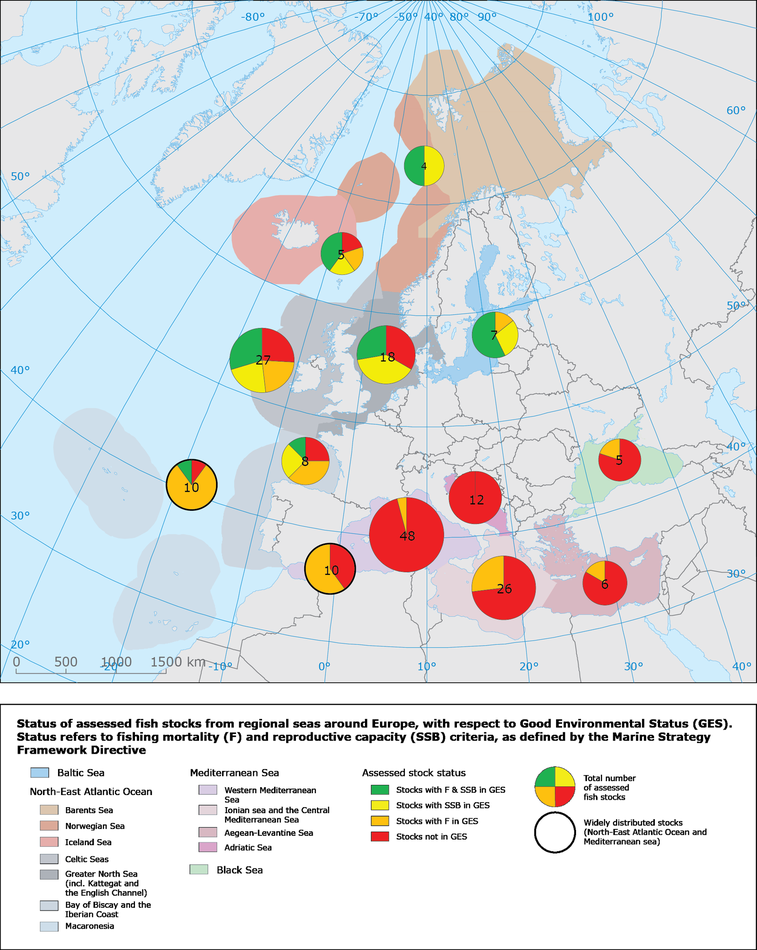 Each year the UK is told by the European Union how much of each type of fish we are allowed to catch. This is known as the Total Allowable Catch (TAC). How do they know? The EU's Common Fisheries Policy uses something called the Maximum Sustainable Yield to inform the TAC. Basically, the Maximum Sustainable Yield (MSY) is the amount of fish we can take from a given population and still leave enough fish behind to reproduce and replenish the population to the same numbers for the following year. It is designed to ensure the fishery can be sustained for the future.
As you can imagine, figuring out the MSY is damn tricky (how do you count fish in a 3D environment we can't survive in?!) and so the result is often imprecise. The MSY also assumes that the only source of depletion for a fishery is us; it does not take into account loss from other sources, such as predation, disease or death from other environmental factors. This leaves a too-small population of fish left to try and repopulate to previous numbers. There is also immense pressure for authorities to prescribe fishermen a TAC that will provide them a sufficient amount of income. Subsequently, the TAC recommended by fisheries scientists is seldom adhered to. An average of 68% of TAC limits set by the European Union exceed the recommendations. There is a fundamental lack of political will in restricting fishing practice and underlying disparity between fisheries scientists and economists.
Another byproduct of the fishing industry is bycatch, whereby non-target species are accidentally caught and killed. Bycatch is usually thrown back overboard as it holds no economic value, and can include anything from whales to jellyfish. The Common Fisheries Policy's most recent revision stipulated that bycatch must now be 'landed' – that is, brought to shore and included in the total catch weight. The philosophy behind the discard ban was to reduce this wasteful practice but it has been criticised for not encouraging less destructive and more selective fishing methods and gear.
Farmed fish, also known as aquaculture, has been heralded as the environmentally conscious way of consuming seafood and now 50% of all fish consumed comes from farms. The notion that this method of providing us with seafood is environmentally superior is a little misleading. Farmed fish, such as salmon, are fed wild-caught fish, either ground up or in pellet form.
James Smith, a research fellow in Fisheries at the University of New South Wales, pointed out we need to reevaluate what sustainability means. Sustainable fisheries and fishing practices are achievable and there are many examples of well-managed, healthy fisheries but as demand as increases, so does the pressure on our fishing grounds. Once we've exceeded the limit of one fishery, we will turn to another.
Our consumer choices are our votes. The more we purchase fish, the more the demand increases which in turn decreases our fish stocks. The British are not reliant on seafood as a vital source of protein. We don't have to eat fish; we have the luxury to choose an alternative.
Sources and further reading:
Cardinale, M. and Svedang, H., 2008. Mismanagement of fisheries: policy or science? [online]. Fisheries Research, 93 (1-2), 244-247.
Damalas, D., 2015. Mission impossible: discard management plans for the EU Mediterranean fisheries under the reformed Common Fisheries Policy [online]. Fisheries Research, 165, 96-99.
Mace, P., 2004. In defence of fisheries scientists, single species models and other scapegoats: confronting the real problems. Marine Ecology Progress Series, 300, 285-291.
O'Leary, B., Smart, J., Neale, F., Hawkins, J., Newman, S., Milman, A. and Roberts, C., 2011. Fisheries mismanagement [online]. Marine Pollution Bulletin, 62 (12), 2642-2648.
Oppenlander, R., 2013. Food Choice and Sustainability: Why buying local, eating less meat and taking baby steps won't work. Langdon Street Press.
Piet, G., Van Overzee, H. and Pastoors, M., 2010. The necessity for response indicators in fisheries management. International Council for the Exploration of the Sea Journal of Marine Science, 67, 559- 566.
Pontecorvo, G., 2003. Insularity of scientific disciplines and uncertainty about suppy: the two keys to the failure of fisheries management [online]. Marine Policy, 21 (1), 69-73.
Salomon, M., Markus, T. and Dross, M., 2014. Masterstroke or paper tiger – the reform of the EU's Common Fisheries Policy [online]. Marine Policy, 47, 76-84.
Villasante, S., Garcia, M., Gonzalez-Laxe, F. and Rodriguez, G., 2010. Overfishing and the Common Fisheries Policy: (un)successful results from TAC regulation. Fish and Fisheries, 12, 34-50.